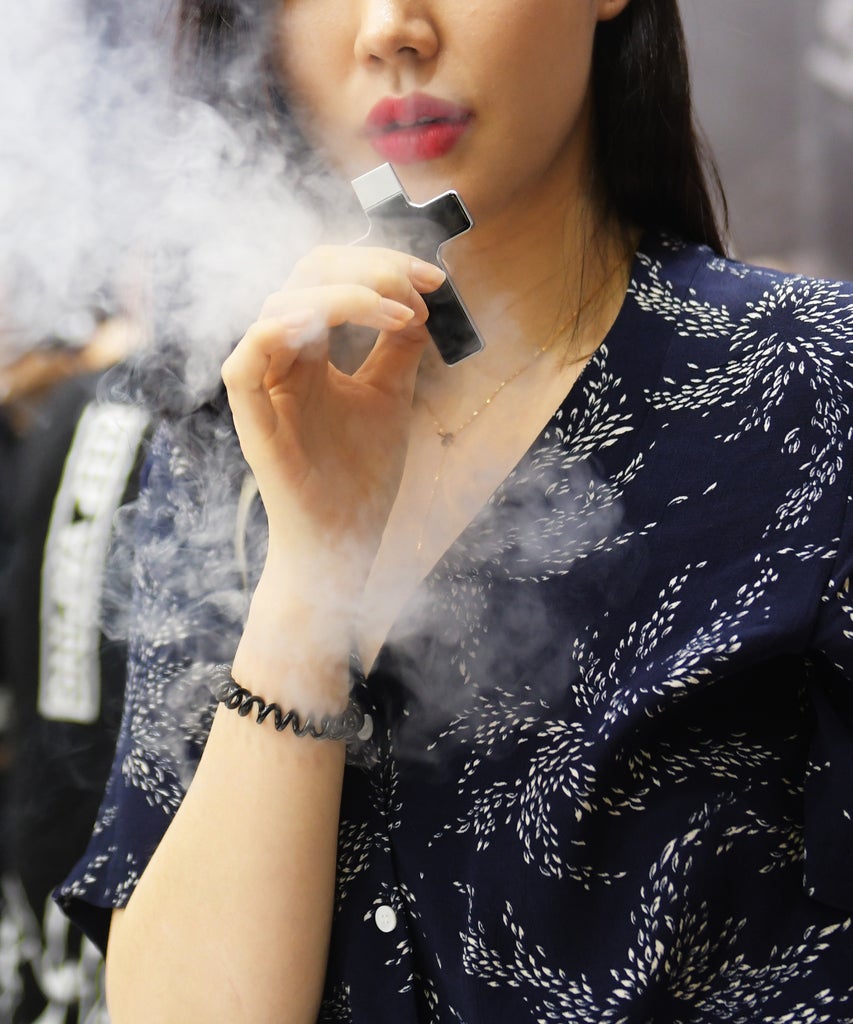 Just like a puff of smoke from an e-cig momentarily blurs our view of the world around us, there's still a lot we can't foresee about both vaping and CBD. Health officials just don't have enough information about either of the fairly new frontiers to issue completely definitive guidance. But, as authorities are starting to crack down on vaping, specifically with black market or flavored products, a recent investigation by The Associated Press has also found vaping dangers in products marketed as CBD.
On Monday morning, The AP reported that some CBD vapes actually contain illegal, cheap, synthetic marijuana. The wire did laboratory testing on about 30 vaping products that are billed as CBD, the non psychoactive compound found in marijuana and hemp, and found that ten out of the 30 products contained types of synthetic marijuana, while others contained no CBD whatsoever. They noted that the practice of selling these fishy vaping products has sent dozens of people to the hospital over the past two years. They emphasized that it's hard to catch the people selling these scammy products because official regulators haven't caught up with the ever-growing trend, and drug enforcement agencies "have higher priorities." 
AP Investigation: Some products claiming to contain the popular cannabis compound CBD actually use a powerful street drug instead. The practice has sent dozens to emergency rooms over the last two years. https://t.co/rNbHVABBWD

— The Associated Press (@AP) September 16, 2019
The investigation focuses on the story of Jay Jenkins, who tried a CBD vape to "relax," but ended up in acute respiratory failure and eventually a coma — after taking just two puffs of a fraudulent CBD pen. The AP found that the cartridge he used contained a kind of synthetic marijuana tied to at least 11 deaths in Europe. "It's Russian roulette," James Neal-Kababick, director of Flora Research Laboratories, told The AP. 
The AP only tested products that were already suspected to be spiked, either by law enforcement or "online discussions." They note that because of this, their findings aren't representative of the entire market that covers hundreds of CBD products. 
All this news comes as the Centers for Disease Control and Prevention and the Food and Drug Administration are investigating what's causing vaping-related illnesses that have plagued over 400 people and killed six. The CDC has already flagged black-market products sold on the street, and the FDA is looking into a chemical called vitamin E acetate found in marijuana vaping products. The Trump Administration has also promised to take action, specifically moving to ban flavored vapes, which they say attract kids and teens. New York's Gov. Andrew M. Cuomo also just announced on Sunday that he was planning emergency regulations this week to ban the sale of flavored e-cigs. Michigan already banned them. "No one can say long-term use of vaping — where you're inhaling steam and chemicals deep into your lungs — is healthy," Cuomo said, according to The New York Times.
CBD, for its part, also needs more supporting science. Although the FDA has approved it as part of a drug to treat epilepsy, research is inconclusive on other claims for what it can "fix," such as anxiety or trouble sleeping.
And this new AP investigation just hits home the point that we have a lot of work to do when it comes to regulating and investigating the CBD and vaping industries.
As one exert, Michelle Peace, a forensic scientist at Virginia Commonwealth University who's also looking into to CBD vapes, put it to The Associated Press: "As long as it remains unregulated like it currently is, you just give a really wide space for nefarious activity to continue."
If you are struggling with substance abuse, please see here for a list of resources by province in Canada.
Like what you see? How about some more R29 goodness, right here?
Kim Kardashian Swears CBD Helps Her Sleep
A Man Was Arrested For An Alleged Vaping Scheme