Welcome to Travel Diaries, a Refinery29 series where we tag along as real women embark on trips around the world and track their travel expenses down to the last cent. Here, we offer a detailed, intimate account of when, where, and how our peers spend their vacation days and disposable income: all the meals, adventures, indulgences, setbacks, and surprises.
This week's travel diary: A 33-year-old who works in insurance eats her way through her South San Francisco hometown and visit family.
For questions, feedback, or if you're interested in tracking your travel expenses during an upcoming trip email us at [email protected]
Age: 33
Occupation: Insurance Verification
Salary: $45,000. I make $21.50 an hour, 40 hours a week, sometimes a little overtime.
Hometown: Dallas
Trip Location: San Francisco, CA
Trip Length: 4 days
Annual # Of Vacation Days: 22, includes sick days as well
Transportation
Costs:  Flight from Dallas Love Field to SFO round trip on Southwest was $312.96. My flight included two checked bags. I paid $162.96 out of pocket and had a voucher for $150. I paid $174.26 for a rental car through Budget.
Total: $337.22
Accommodations
Costs: I stayed with my aunts in South San Francisco for the whole trip, this saved me about $400, thanks guys!
Total: $0
Miscellaneous pre-vacation spending: 
Endgame Movie tickets $25.40, it came out that weekend and I got to take my niece who lives in San Jose. We went to the movie theater at The Great Mall in Milpitas and were able to choose our seats.
Total: $25.40
Day One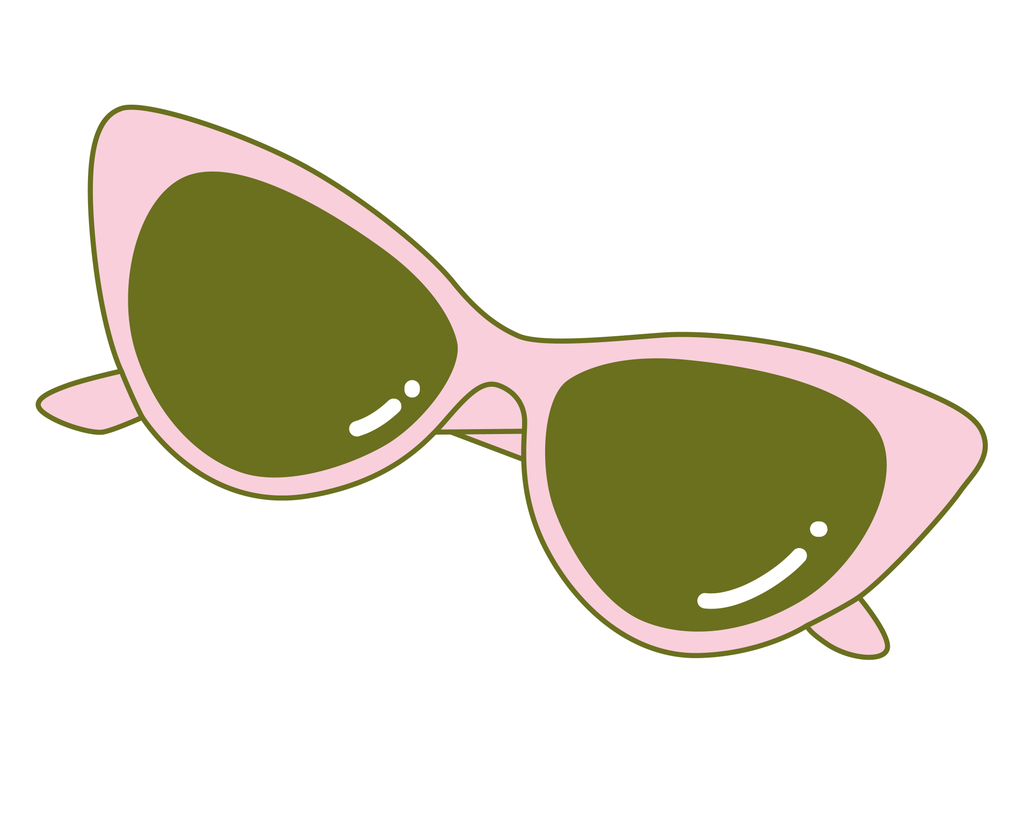 4:15 a.m. – My alarm goes off, out of habit I hit snooze. My husband V comes in and tells me it's time to get up, even though I'm excited to leave, I don't want to get out of my cozy bed. I get up anyway, throw on clothes, kiss the dogs, and we're out the door. I start to get anxious on the drive, I rub my belly and talk softly to it (I'm currently 6 months pregnant). After a few quick kisses and I'm on my own. I check my bag and talk to my older kids while in line for TSA: They spent the night with grandma, she made them Spam for breakfast and they're currently living their best lives (I can't stand Spam and never cook it for them). I make it through TSA, grab a chicken biscuit, water, and gum and board the plane. $17.06
8:45 a.m. – I watch Julie and Julia on the plane and only cry a little (the scene where Julia is trying so hard to be happy for her pregnant sister is the most heartbreaking scene in movie history.) Karl the Fog is really showing off and before I know it, I'm home. I forgot how big SFO is. I get my bag and make it to Budget to pick up my rental car. I silently laugh at everyone complaining about the cold. It was 81º in Texas last night and I'm pumped to feel some 50º weather. I get a hybrid and I'm off to get my burrito. ($100 deposit for the rental car that will be refunded when I return the car).
 11:00 a.m. – I hold back the tears as I pull into El Faro. Buy a vegetarian burrito and a Mexican coke. I haven't been home in six years and have dreamed of this moment since I left. I recognize everyone working and everything smells exactly the same. $12.29
12:00 p.m. – My best friend G lives out of state and is also in town this weekend. I meet her and her friend B at our local bar. I haven't been here since long before we moved and am pretty sure I was carried out. Oh, to be young and carefree! The bar looks very different during the day. I drink water and people watch.
2:00 p.m. – I place an order for sandwiches. We're going to the Giants game tonight and nothing is better than a sloppy garlic sauce sandwich from Little Lucca's. It's literally a shack next to a gas station. Ordering sandwiches is the best option, especially on game day. I've waited over an hour in line before. (Well worth it in my opinion.) $40.46
2:15 p.m – I leave to pick them up and see my grandparents. They've been gone for over a decade; I stop for some quiet time at their graves and have a short cry. I then drive by my old house. We left California six years ago, and the house I lived in belonged to my grandparents who bought it brand new. I hate the changes the new owners have made. They repaved the driveway, covering up my handprints in the old cement. I shoot the house a dirty look and drive off.

4:00 p.m. – I make it to my aunts' house, Aunt T is home, Aunt Z will be home later and I'll miss her. We spend the next hour catching up; she's made a lot of changes to the house, new paint, new floors, everything looks great. I change into my Giants gear and head out to pick up my other best friend K. Her son and my oldest son are five weeks apart. I get teary eyed seeing how much he's grown. He looked like a little baby when I left, now his feet are bigger than mine and he's about an inch shorter than me. I meet her fiancé for the first time and decide right away that I like him. We leave to pick up my friends at their hotel. We're running late and don't want to miss the train.
6:30 p.m. – I waddle-run and by the grace of God, we make it to the train. The baby elbows me the entire time, he's just trying to relax and I'm disturbing his sleep. The train ride to the game is fun, everyone is decked out in orange and black. It feels like old times. We realize on the train that we didn't pay for tickets. We wait for the conductor to come by, but he never does. K bought us tickets to the game. I asked that we not sit in the Arcade, as it's normally really windy. So she bought us tickets in the Arcade. However, the baseball Gods smile on us and there is not a single whisper of wind. We really lucked out with the weather. I buy a water and a pretzel and settle in for the game and I honestly feel so robbed. $14.25
10:30 p.m. – We head out early, I'm crazy uncomfortable and don't want to miss the 11:00 p.m. train. Also, Posey just struck out and there are too many Yankee fans here. I even see a few Dodger fans. Really? Your game's not until Monday and y'all are gonna lose anyway, get out of here with that ugly blue jersey. We make it back to the car; my friend and her friend head to the bar, I drop off K, and I collapse into bed as soon as I get home.

Day Two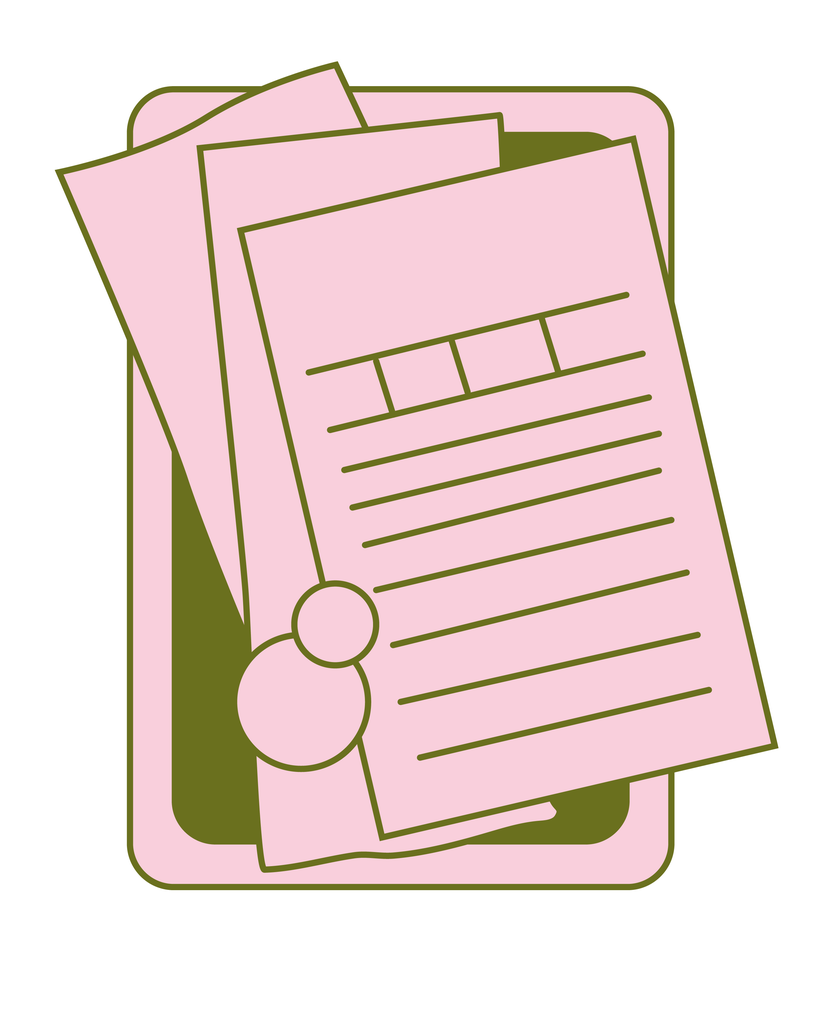 7:00 a.m. –  I immediately regret everything I did yesterday. I overdid it big time and am incredibly sore. I take a hot shower and feel a little better. Aunt T and I head to breakfast at Stacks in Burlingame. Aunt Z has already left for the day to go out with her walking group. We talk about all the changes on the drive, everything looks so different. Oyster Point has really been built up with more businesses (hello big pharma) while El Camino Real looks like a ghost town.  A lot of mom and pops have gone out of business and that makes me so sad. At breakfast, I order the all meat omelette, but as a scramble. My aunt orders bacon and eggs and the largest pancake you've ever seen. I order root beer to drink. This isn't a pregnancy craving, I love root beer with breakfast food. My aunt buys breakfast.
10:00 a.m. – Done with breakfast, we head to Safeway to buy artichokes. My aunt has an Instapot and wants to test a recipe. We do a quick lap of the store before checking out. It's awesome not seeing plastic bags! C'mon Texas catch up on the plastic bag ban! When we get home, Aunt Z and I say hello, then she's out the door to go to the Giants game, hopefully they win today. The artichokes come out perfect in 10 minutes! Around 1:00 p.m. I go to lie down, I'm still sore and need to rest.
2:00 p.m. – I do my hair and makeup and meet up with my friends. G's brother is in town with his family and they're having a party for his daughter. It's nice to see everyone. But about five minutes in I start to smell pot and immediately get annoyed. Like, do we really have to do this at a one-year-old's birthday party?! Maybe I'm old now or just don't remember that this is part of my old Bay Area life, but I leave and head to my uncle's house in Mountain View.
4:00 p.m. – I arrive at my uncle's and his dog makes it very clear I'm not welcome in his home. I'm heartbroken. I've never had a dog not like me and I do my best not to take it personally. We catch up for an hour then head out to family dinner.
7:00 p.m. – We make it to my favorite Mexican restaurants, Celia's and settle in. Celia's has a few locations, the one in San Bruno is my favorite. I catch up with my cousins, some friends from church come, as well as my little sister who just eloped. I still think she's eight years old, now she's an old married lady. She's also taller than me now. Have I always been this short? I order two cheese enchiladas and french fries. Hear me out. You eat the enchiladas first, then use your fries to scrape up all the leftover sauce and cheese. It's genius and you're welcome.
9:00 p.m. – Dinner is over and honestly, the worst service I've ever had. I feel bad recommending this place. I take my uncle home and fall asleep around 11:00 p.m. ($0, food was covered by my aunt).
Daily Total: $0
Day Three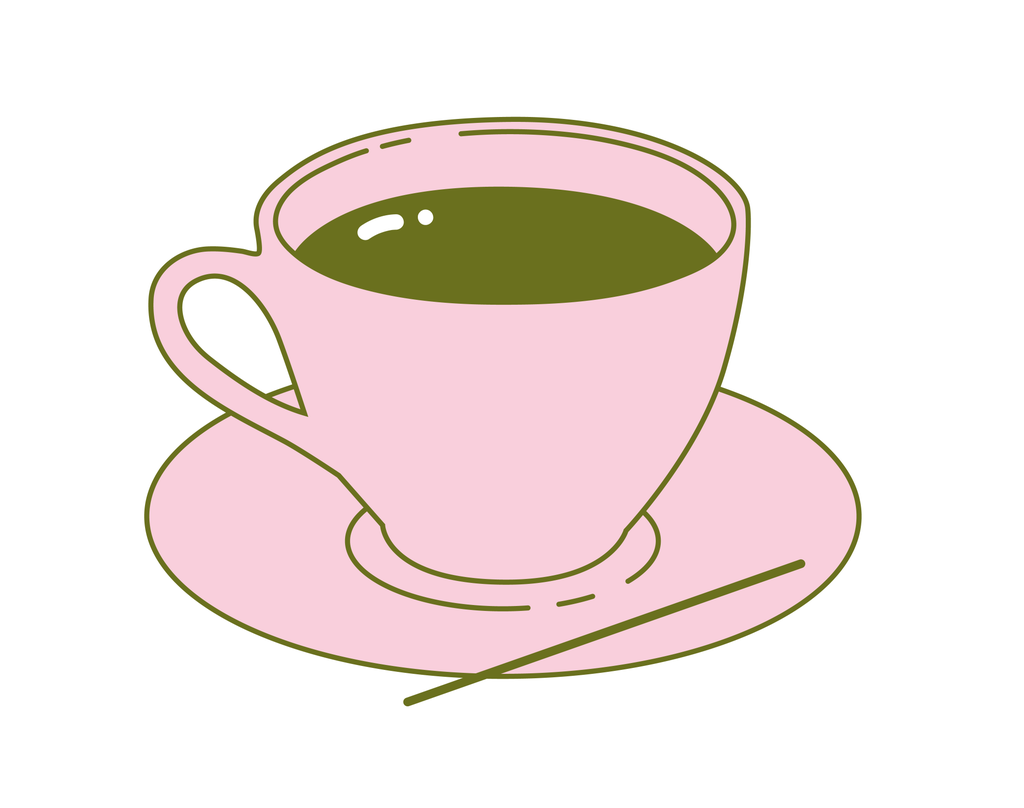 7:00 a.m. – Up early again, I'm picking up my niece, I, in the San Jose and taking her to see Endgame. I stop at Philz and get a decaf Iced Mojito Coffee and a kouign amann ($12.31) On the drive to pick up my niece, my husband texts me and tells me to take Kleenex. He took our sons to see the movie early in the morning in Dallas. I arrive at my brother-in-law's house to pick up my niece. He's my husband's younger brother so we catch up for a bit. He and his new girlfriend had a baby a few months ago, but aren't home when I get there. My niece is anxious to go, so we start the drive to Milpitas to see the movie. We get to the theater early, park, and head in. I orders a large popcorn and a large Icee. I also get a pretzel, m&m's and a water. $29.55
2:00 p.m. – Welp, my husband wasn't wrong, I cried through the entire movie. I and I talk the whole way back to San Jose. She likes the part with Captain Marvel the best. We get to her dad's house and the new baby is there! I hold her baby brother, he's 3 months old and just the sweetest baby. I kinda forgot how to hold a baby, it's been so long, but he settles in and snoozes until his mom comes home, then he wants to eat.
3:00 p.m. – After some back and forth, I decides to go home to her Mom's house in Milpitas. I drop her off and get two hugs goodbye. On my way back to South San Francisco, I stop at Tanforan Mall and Rolling Pin Donuts to buy treats for my sons. I buy them each a Golden State Warrior shirt ($54.88) and a dozen donuts ($28.50) to share. $83.38
5:00 p.m. – I get back to my aunts' house and we have dinner. There's literally enough food for 20 people: three dips, three bags of chips, sweet potato latkes, burgers, salad, artichokes, grilled peppers, etc. After we eat they pack up the rest for lunch.
7:00 p.m. – After dinner, I head to my best friend K's house in San Bruno. Her dog also doesn't like me. I'm starting to think it's because I'm pregnant. Maybe they don't like the baby? She gives me a tour of her home, she moved in last summer, then casually asks if I want to see her wedding dress. I'm sorry, what?! When did you go shopping?! As soon as she pulls it out of the bag I start sobbing and demand she try it on, which makes me cry even harder. I'm so happy she found someone who loves, respects, and values her and her son. We sit and talk for awhile and catch up on drama and everything else that's been going on. I hate living so far away. I feel like I've missed so much.
9:00 p.m. – I head back to my aunts', wash my face, and watch Game of Thrones on my phone. I'm super underwhelmed with this episode, until the very end. I'm asleep by 10:30 p.m.
Daily Total: $112.93
Day Four
7:00 a.m. – I'm up early to say goodbye. I eat my leftovers from Saturday breakfast and chat with my aunts before they leave for work. We rush to say goodbye, so we won't be sad. I shower, pack up the rest of my stuff, and realize my headphones have walked off. I stop by El Faro and grab a burrito to-go. ($7.43) I check for headphones at Walgreens and strike out. I hate that Apple took away the headphone jack. Why do you guys make it more expensive to own your stupid phone?! I run to Raymond's Sourdough Bread Outlet to stock up on bread. They're a bakery that I think delivers bread, but they also sell fresh hot sourdough bread daily. I only checked one bag on the flight here, but I packed a second empty bag for this exact situation. I realize they're cash only and rush off to find cash. I have to pay ($0.25) to park my car, then get charged ($1) to pull out cash from the liquor store ATM. I hate rushing and start to get anxious. I make it back the outlet and fill my 2nd suitcase with bread. I look like a crazy person organizing my suitcase in the parking lot, but I'm no dummy. San Francisco sourdough is the best. ($23.25) $31.93
10:00 a.m. – I stop for gas. Y'all, get a hybrid! I did three round trips to the South Bay and barely used half a tank of gas.($32.46) I return my car and make it through TSA, my flight is delayed for about 30 minutes. I walk around the terminal then eat my burrito. I buy water, two Oakland Raiders keychains for my sons, and headphones for me. I'm so mad at myself for losing them. ($91.73) $124.19
12:30 p.m. – I talk to my husband for a bit, we catch up on last night's Game of Thrones and I board my plane. I watch the Chilling Adventures of Sabrina and take a small nap.
7:00 p.m. – I wake up when we start to land and realize I'm super hangry. I call my husband as soon as we land and give him fair warning. My sons are super happy to see me, they have their sweet voices on; they know I have food and presents for them. T, the oldest, has a small black eye from the youngest. P better watch out, T is a lot nicer and bigger than P. We stop at Jack in the Box on the way home, not the healthiest meal, but I'm too hungry to care. I inhale it. 
The house is a disaster, not a single chore has been done. I contemplate setting it all on fire. I unpack my suitcases and start a load of laundry, only my clothes, because I'm pissed but trying to put on a happy face. The boys shower, and I make them fold and put away the clothes in the dryer. I snuggle with the dogs for a bit, they're happy to see me. I clean up enough to make myself feel okay with the state of the house and pass out around 11:00 p.m., dreaming of smothering my husband in dirty laundry. $9.07
Daily Total: $165.19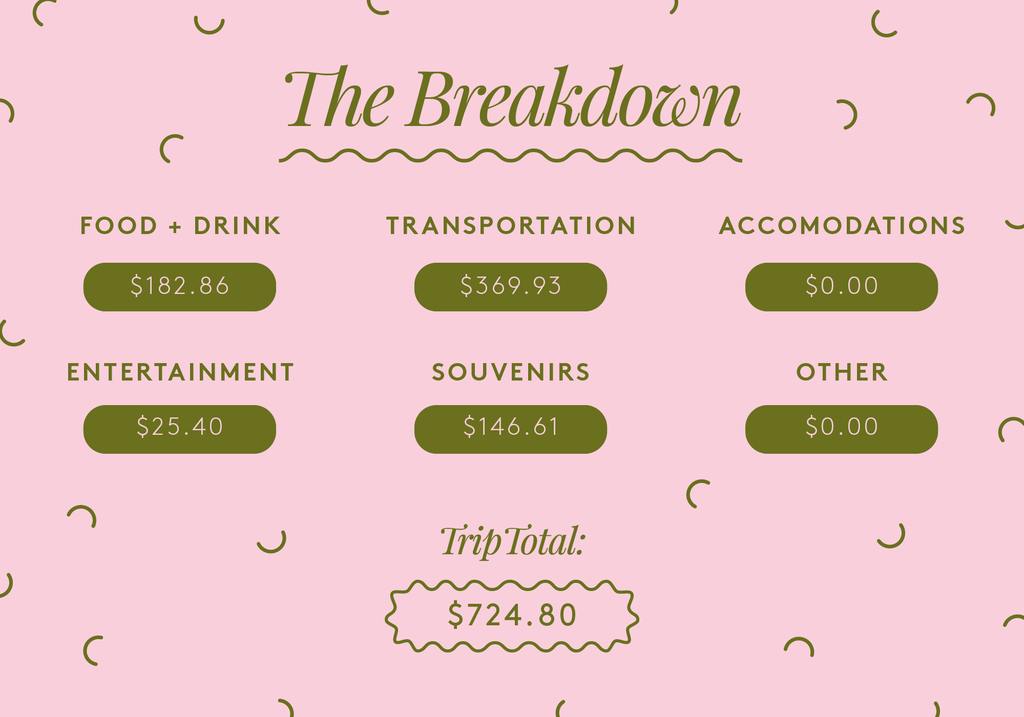 How did you prepare for this trip? 
Listening to the Bay Area Rap station on Pandora lol. My mom has gone back to California a few times a year since we've moved. She made the mistake of trying to drive all over the Bay Area to see everyone. It's exhausting and you don't enjoy yourself. I knew I would already be tired and cranky, so I chose to do a dinner and invite everyone I wanted to see. Since I'm pregnant and haven't seen friends and family, I really wanted this to be a more low-key trip. The Giants game was my only big wish.
Did you use credit card points/miles to pay for parts of this trip?
No, I paid for with cash and a voucher. I went on a work trip last year and my flight home was extremely delayed. I was sent a $150 voucher as compensation.
If flight, when did you book? Do you think you got a good deal?Everything was booked eight weeks prior to the trip. I think I got a good deal. 
What was your favorite part of the trip? Seeing my best friend K and her son. We were pregnant together and grew up as mamas together. Eating at El Faro was my favorite meal, they make a mean burrito.
What was the best meal or food you ate while you were there? 
My burrito, it was perfect and I wish I brought home extra to freeze.
Is there a tourist trap you wish you had avoided? 
Paying for food at the ballpark. 
What advice would you give someone who is traveling to the same location? 
Have a loose plan of what you want to do and where you want to eat. Reach out to locals and ask where there favorite spots are. And always go to a Giants game if you get a chance, but bring your own food.
Is there anything about your trip you would do differently in retrospect? 
I would have taken it easy on Friday. I over-extended myself physically and was paying for it the next day. I would have worn compression socks and better shoes. In hindsight, I would have liked to go to the beach. I miss the ocean.
Would you stay at your aunts' again? 
Always, until they tell me to get lost.
Where were you located in the specific city and would you recommend staying in that part of town? 
There's no reason to stay in South San Francisco unless you have family. It's harder to get to the city to do the touristy stuff. However, the hotels are much cheaper and it's closer to the airport. 
Is there anything you wished you had time to do, but didn't? I wish I had gone to the beach. I'm afraid of open water, but it would have been nice to get my toes wet. 
Do you feel like you were there for the right length of time? Would you have come home sooner or stayed longer given the chance?
I could have used another day, but otherwise, yes.

Like what you see? How about some more R29 goodness, right here?