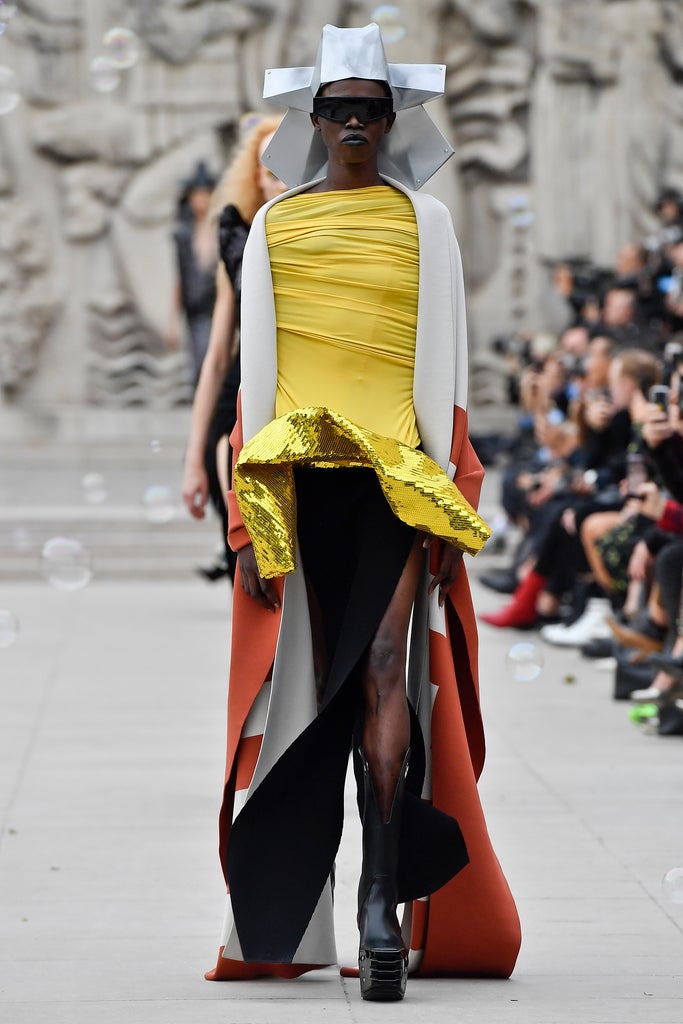 Fashion at its truest sense reflects the time period within which it was created. And designers are not shy about addressing today's political climate with their work. Whether designers want to call attention to the fact that Black women are rarely uplifted and celebrated on a grand scale, or remind the industry that everyone is allowed to participate in fashion no matter what they look like, or further, push back on the narratives surrounding the place they call home, this season's runways are full of commentary on current affairs. On Thursday, Rick Owens said his piece about Donald Trump's war on immigration.
Owens specifically thought of his 87-year-old Mexican immigrant mother and his father who worked in the public court system as a Spanish-English translator defending farm workers' rights. The designer is also cognizant that his business wouldn't be able to operate the same way if Trump's wall goes up at the Mexico border. "The potential of being cut off from family still living in Mexico got him thinking about how the culture, high and low, shaped his aesthetic sense growing up in Southern California," WWD reported from backstage.
Further he explained: "I do think East L.A. lowrider [guys] have been a big thing with me forever — those low-crotched baggy things, for example…I mean, I worked at Taco Bell and I used to get rides home from them. There was a crispness in the way they ironed everything and an economy of doing the best with what you've got, elevating a T-shirt with ironing.…I've always had that kind of pageantry with my clothes, the stiffness, volume and dragging."
On the runway, that resulted in loose and airy separates topped with architectural head pieces, strong paper mâché-esque shoulders, and sequin bolero jackets worn over slinky gowns. The models marched down the runway in platform boots, most wearing "leather bum bag stretched into something resembling an extra arm stretching across the hips" — the best kind of pageantry.
Like what you see? How about some more R29 goodness, right here?
Dries Van Noten And Christian Lacroix Won PFW
Telfar Debuts Converse Mary Janes On The Runway